by Daniel B. Griffith, JD, SPHR, SHRM-SCP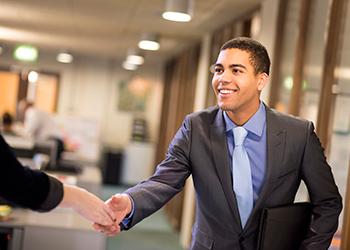 In Hiring the Right People: Including Interpersonal Competence in Job Descriptions, I discussed incorporating requirements for interpersonal competence into job postings and descriptions. In this article, I address considerations for reviewing and evaluating candidates for interpersonal competence, particularly with respect to the search process.
While the search for qualified candidates naturally involves the assessment of candidates' technical, task- and discipline-specific qualifications, less emphasis is often placed on ensuring that candidates can interact effectively with co-workers and customers, manage interpersonal and team conflict, and demonstrate other interpersonal traits and behaviors essential to job success. Too often, the pressure to identify qualifications that are more concretely related to the tasks and duties of the job takes precedence over the attention needed to identify character traits that fit the organizational culture. Managers, department chairs, administrators, and others responsible for hiring are not always prepared to independently select individuals who are both technically and interpersonally proficient. To remedy this, consider these suggestions to support the search process:
Involve more than the hiring manager in the process. Even the most conscientious manager has biases that may slant his or her decisions to hire someone who is personally appealing but who does not meet the broader needs of the team, department, or the constituencies to be served. Managers should not work in a vacuum and should be encouraged to use multiple evaluators during all aspects of the hiring process. Naturally, this would include evaluators who can keep an eye out for interpersonal traits as well as for qualifications that demonstrate the ability to fulfill specific tasks and duties or to progress and achieve tenure within an academic discipline.
Bring in individuals from outside the immediate team or department who can provide increased objectivity regarding the assessment of interpersonal competence. In addition to expanding the search process beyond the hiring manager, the process should include evaluators who are outside the internal team or department. Limiting the search committee to only members of a team can result in focusing too narrowly on only the task- and discipline-specific aspects of candidates' qualifications with little attention to interpersonal traits or characteristics. Look for individuals outside the team or department to help provide this insight. This might include customers or other constituents with whom the incumbent would be expected to interact.
Utilize the support of human resources, equity officers, or other institutional representatives who have institutional oversight for hiring. These offices have a vested interest in ensuring that all hiring processes are fair, equitable, and inclusive of all qualified candidates and result in hiring employees who will not present behavioral problems after hire. This would include, of course, concerns about criminal and unethical behavior, but also behaviors that are harassing, bullying, abrasive, or uncivil in some form. While it may not be possible to anticipate and guard against all behavioral concerns, HR, equity officers, and other representatives have specialized training and experience and a broader institutional perspective to advise search committees on such matters to find the most qualified employees who also demonstrate appropriate organizational citizenship and interpersonal traits.
Guard against inappropriate considerations of "culture fit." Another reason for bringing in the expertise of human resources, the internal equity office, or similar representatives is to help the search committee gain sensitivity and understanding of what it should be looking for when evaluating for interpersonal competence. Without multiple perspectives from individuals within and outside the team or department and who also represent varying racial, ethnic, gender, and cultural identities and perspectives, the search committee's more insular thinking may result in identifying only candidates who act, behave, and model civil conduct. precisely as they do. This may then result in, for example, excluding a well-qualified woman because she is perceived as "too outspoken" whereas the same trait in male candidates is not disqualifying. Individuals who possess cultural tendencies to be more assertive or more deferential may similarly be disqualified when their positive interpersonal behaviors would instead serve the team well in today's multicultural work environment.
Ensure general agreement among search committee members on interpersonal competence standards before starting the search. The concept of evaluating for interpersonal competence along with technical competence may be new to some and not fully accepted by others. As you form the search committee using the suggestions above, educate potential members regarding these concerns and recruit individuals who are especially sensitive to the need for assessing candidates for interpersonal competence. Effective searches give committee members time to discuss essential technical competencies prior to reviewing applications and interviewing candidates. Similar time and attention should be devoted to discuss interpersonal competence standards and expectations.
Many positions require formal search structures while others require less formality. Regardless of its form, the outcome of every hiring process should be to identify the most qualified candidate who shows promise for contributing productively over the course of many years and perhaps over the employee's full work lifecycle. A process that incorporates meaningful assessment of interpersonal competence along with the usual assessment of technical competence better ensures a positive, sustainable outcome for employee and employer alike.
This is the second of a three-part series on the topic of interpersonal competence and the hiring process. The third and final article will discuss strategies for assessing interpersonal competence during the interview process.