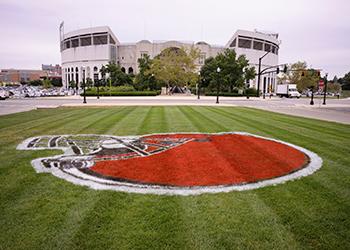 College sports flex a lot of muscles today. From TV contracts to t-shirts, they play an important role in securing alumni and donor support, building school pride and unity, and raising the overall profile of institutions. Even at smaller institutions – without the TV deals or revenue-generating sports – there is often the perception that athletic directors have outsized importance and wield too much power.
In reality, whether in Division I, II, or III, ADs must respect their schools' academic interests, goals, and culture – and take a back seat to the president. "The outside world sometimes forgets that while the athletics department may be the most visible part of the university, its overall impact to the university's bottom line is minuscule," says Chris Del Conte, director of intercollegiate athletics at Texas Christian University. "Even at TCU, the athletics department makes up a tiny percentage of the overall university operating budget." Because sports at TCU represent a majority of the university's media exposure, it can sometimes seem like the tail is wagging the dog, he notes.
Del Conte was one of several college athletics leaders who provided insights to Forbes columnist Jason Belzer and me recently for a collaborative article, "How Do Athletic Directors and University Presidents Manage to Get Along?" We asked ADs to explore the relationship between these two high-profile campus positions.
"It's the job of the athletic director to adjust his values ​​and cultural expectations to that of the president, not the other way around," notes Peter Pilling, director of athletics at Columbia University.
These adjustments are easier when an athletic director's fluency with stats includes GPAs, not just Ws and Ls. As an executive recruiter, I come across many up-and-coming athletics administrators who have a sports-first, education-second mentality. What's needed in top athletic directors, however, is a healthy appreciation for both.
Cultural Fit
Athletic directors must nurture mutual respect with academic leaders. As Lou Anna Simon, president of Michigan State University, suggests: athletics and academics create a "tightly interconnected ecosystem with common values ​​. . . with athletics as the front porch of the university." Simon was one of four presidents to provide input for another related Forbes column, "The Priorities of University Presidents: Where Do College Athletics Fit In?"
Simon sees the need for a well calibrated balance between athletics and academics interests. "If you're consistent with your values ​​and your culture, you're going to turn out OK," she says.
This balanced relationship begins when athletic directors work with their presidents to establish and maintain a strong mission for their department, built upon ethics and integrity. The ADs must care about their student-athletes' welfare as well as the school's core values ​​and educational objectives.
As in sports, team chemistry matters in academia. The lack of a cultural fit can undo an athletic director who otherwise seems well-matched with the school's expectations. Someone who manages too aggressively to the bottom line can fumble the support of vocal stakeholders, including students and alumni, who see strictly-business decisions running counter to their school's traditions.
A Well-Rounded Mix of Abilities
With a well-rounded mix of department leadership qualities, athletic directors can withstand the harsh spotlight often thrown on them. These traits include fairness (respecting diverse student interests, especially those of underrepresented minorities), patience (in cultivating donors), and faithfulness (to school values).
Barry Alvarez, athletic director at the University of Wisconsin, is widely thought to embody those qualities. Alvarez, the former football coach, is kind of an old-school example of today's athletic director, a throwback to the days when ADs were almost always promoted from within, usually from the school's own coaching ranks. Who would appreciate our culture better than an insider?
An unfortunate truth is that academia generally is not highly focused on internal career development and succession planning. So in today's athletics departments, low- to mid-level administrators need to actively pursue challenging internal opportunities and initiatives. By raising their profile by taking on progressive, important responsibilities, sports administrators call attention to their zeal for student athletics and their schools. Those qualities are critical to successful athletic director careers.
And while internal athletic director candidates, with a firm grasp of their school's culture and mission sensitivities, can get a leg up on external candidates, it's also true that athletic directors can come from outside and, increasingly, "non-traditional" backgrounds. Nonprofit associations and sports foundations are great training grounds for leaders who can handle business responsibilities with diplomacy. A few corporate CEOs have made this transition as well, with decidedly mixed results.
Chief Executive Qualities
Big or small, collegiate sports programs are businesses. Amid the passion of school spirit and rivalries are the dispassionate matters of money, and athletic directors need the skills to handle all that. Financial acumen and discipline – tempered by sensitivity to the school's academic mission as well as the fan base of each sport – are critical.
The CEO/AD analogy applies with one emphatic note: the CEO needs to bring an entrepreneurial spirit. Gilbert M. Gaul, in his book "Billion-Dollar Ball: A Journey through the Big-Money Culture of College Football," takes a hard look at the business. He writes about the "new financial model" in which leadership expects athletic directors to find their own money rather than depend upon general revenues.
This model will force athletic directors to be savvy financial managers and creative fundraisers. There are wide revenue disparities Among programs within schools (that is, basketball, football, and just about every other sport) and between schools (the top 25 moneymakers and everyone else). Dealing with these disparities to the satisfaction of student-athletes, coaches, and fans – and the school's mission – requires the strategic capability to make tough calls.
Meanwhile, the NCAA's ongoing reform efforts call for an understanding of the nuances of governance. Athletic directors need to stay on top of national issues such as student-athlete transfer rules and practice time limits, and factor those considerations into how they do business.
Winning hearts, minds, and dollars won't be easy for tomorrow's collegiate athletic directors. Their presidents are feeling pressure to control expenses and limit tuition hikes. And for state schools, public funding for higher education is uncertain. Competition for resources is only getting tougher.
Future ADs
Present and future athletic directors can help their cause if they look at the bigger picture of sports on campus today. Even with TCU's Del Conte's assertion that sports contribute a small percentage to a school's general budget, school presidents see the value. They made that point clear in their interview for Forbes.
"Winning is not our first priority," said Biddy Martin, president of Amherst College. "We care more about the added value athletics brings to the overall student experience."
"Investing in athletics often has a higher ROI than in other university programs," says Michael Shonrock, president of Lindenwood University. "Student-athletes on average have higher GPAs and graduation rates than the general student body. . . . Yes, athletic administrators are more revenue-driven, but their bottom line is to graduate student-athletes first and foremost, and so they will be held accountable for that above all else."
Not all athletic directors are held fully accountable for upholding academic interests, of course. However, given the increased scrutiny placed upon college athletics by the media, fans, alums, and other stakeholders, the most successful athletic directors will be those who truly understand and support their schools' academic values ​​and cultures.