by Amy Hecht, Ed.D. & Jason B. Pina, Ed.D.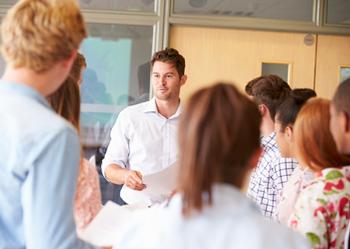 Little has been written about the associate/assistant vice president (AVP) role, the challenges it holds, and what success looks like in these positions, yet it remains a coveted role. In fact, many professionals work years to advance their careers and obtain this position, which is extremely influential and has the potential to shape organizations. It only makes sense, therefore, to examine how AVPs can maximize their positions.
A variety of titles are used to describe this second-in-command position, including assistant or associate vice president, assistant or associate vice chancellor, dean of students, and assistant or associate dean of students. We use the term AVP to encompass the variety of titles that indicate a person who reports to the vice president for student affairs (VPSA), has senior oversight of departments, and supports the macro goals of the senior leader.
While "AVP: Leading from the Unique Role of Associate/Assistant Vice President for Student Affairs" is focused on this position within student affairs organizations, this publication can provide insights into the role a number-two position can play in organizations throughout higher education institutions. .
The "AVP" text was inspired by the work conducted by NASPA. Four higher education leaders hosted an initial meeting in 2012 that launched the suite of AVP professional development options that exist today. From regional to national meetings as well as Twitter feeds and magazine articles, student affairs practitioners have just begun to provide and receive content specific for these senior leaders. This blog post posits the critical relevance of the AVP role and potential influence such leaders have on not only their divisions but also institutions.
The AVP position has the opportunity to influence the student affairs organization and the larger institution. An effective AVP is a senior administrator who can lead high-profile initiatives on behalf of student affairs and the larger institution. Examples include leading initiatives to address federal policy, such as Title IX, or representing student affairs in campus-wide conversations for the development of common learning outcomes. This allows the vice president to be assured that they have a highly competent senior administrator involved in the nuances of priorities, freeing them to focus on higher priorities. A capable AVP increases a vice president's effectiveness, allowing for more to be accomplished.
AVPs shape an organization because they often provide vision and leadership for a large portion of departments within a division of student affairs. An AVP can deliver a vice president's message and work more closely on the ground level to ensure that the vision is accomplished.
Many AVPs wonder what is expected of their position and how best to support their VPSAs. Each VPSA is unique, coming to the position with different expectations. Additionally, institutions have a unique culture and organization that require VPSAs to structure their responsibilities and their own role in different ways, which results in the diversity of roles and duties that AVPs have. AVPs should find the time to talk with their VPSAs to clarify expectations.
At the 2015 NASPA AVP Institute, current VPSAs shared their perspectives on what they need from their AVPs. VPSAs spoke about the need for their AVPs to support them. One referred to this as "having my back." VPSAs need a level of trust with AVPs and assurance that they are working together to advance the division, but AVPs should also help the VPSA be successful. AVPs should provide appropriate feedback to the VPSAs, represent them in their absence, and take important projects off the VPSA's plate. VPSAs need an AVP that makes them look good.
Second, the VPSAs noted that AVPs should be able to handle challenges in their areas without the involvement of the VPSA. At the same time, AVPs should know what to communicate to their supervisors and when. Finding the balance of keeping a VPSA in the loop and handling challenges personally is important. Finally, the VPSAs shared that they need an AVP who can get things done. Whether it's creating new programs, building partnerships, or responding to new federal legislation, AVPs need to learn quickly and successfully to take on the task at hand.
The goals of this blog series are threefold. We will offer some perspective on the increasing role and sophistication of the AVP. Through professional insights and glimpses into the text, we will assert the critical nature of the role and its development. An emphasis throughout the series will be on the "frontier" nature of this work. The book and this series of blog posts are not only meant to move beyond education but to inspire others in the academy to expand AVP professional development. Finally, the series will take a deeper dive into the AVP position competencies as well as the challenges to excel in these roles.
Our next blog post will discuss how a person transitions into the AVP role, how to be successful in the role, and how to know when you are ready to become a vice president.