by Joyce A. De Leo, PhD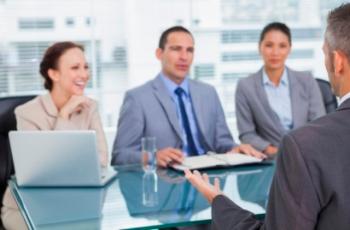 The journey for a new academic leadership position often starts with an executive search firm interview. The consultant team delves into your biographical details with surgical precision and unbelievable depth – at what age did you decide to be a scientist? Tell us about early influences that shaped your desire to pursue a career in academia. How did you decide between graduate school and medical school? This begins an extensive and intensive process of discernment for the search firm and the college search committee to determine whether you are the right match for them.
Following the initial search firm interview, and if your candidacy moves forward, you are scheduled for airport and on-site interviews. You spend many hours and even days in front of faculty, administrators, and student groups. In this process, you are inundated with questions from every constituency's viewpoint. Why are you interested in this position? What is your vision for this institution? Do you resonate with the institutional mission and values? How will you improve shared governance? What graduate programs would you implement? Do you enjoy attending school sports events?
Before an offer is made, background checks, social media research, degree verifications, and comprehensive referencing are performed by the search firm. Depending on the level of leadership position, this may include 10-15 personal reference calls – both on- and off-list – in order to make sure that there are no surprises and that your personality and leadership style are compatible with your supervisor(s). ) – as well as the institutional culture.
Doing Your Homework
The offer is made and it is a very good one – but have you done your own research? Are the institution, leadership team, and position right for you at this time? These questions are particularly relevant if you are considering a move to a different type of institution where your networks and reach are limited. If you get this far, and you are not certain of the answers to the questions below, the fit may be right for the institution but not for you. You should ask yourself, the search firm, and, if appropriate, the search committee these questions before the offer letter arrives:
• Who are the members of the President's cabinet or C-suite? How long have they been in their position? How are they evaluated? What are the metrics for leadership success at this institution from both the C-suite and supervisor (president, if appropriate) perspectives?
• What is the leadership style of the C-suite and your supervisor(s)? Is this style harmonious with your managerial and administrative approach? How often does the senior leadership meet and how are decisions made that impact the entire institution?
• What is the process for developing new initiatives? How have past program creation and leadership visions been supported by the organization?
• How different is this institution from your current college/university? Is the reputation on the same level? If not, what transition challenges will you find if you decide that this is not the right position in a few years?
• How many searches has the search firm done for the organization in the past? (Often times, a healthy institution will utilize the same firm for multiple, diverse positions since the firm understands the mission and culture and can quickly move through the process of candidate identification, attraction, and match.)
Candidate at a Disadvantage?
I posit that the differences between the rigor of the search firm process and a candidate's process is often remarkable. A national search firm functions in large teams with infrastructure for research, identification, and vetting of candidates. In contrast, due to the confidential nature of pursuing new leadership roles from both the candidate and client perspectives, you are often flying solo – and on top of that in a full-time job with limited "extra time" for adequately researching opportunities. Such a difference puts you at a large disadvantage for making an informed decision about the right fit for you.
It is imperative that you perform the same deep dive as those assessing you are doing. Make calls (even cold calls if necessary) to leaders in a similar position at organizations with geographic proximity and similar missions to the one you are considering. If you are considering a higher level leadership position, ask what are the challenges and highlights of this role. What went into their decision process to move to the institution in their current position? Ask probing questions from the external perspective about C-suite leadership longevity and reputation of the institution that you are considering. If the position turns out to be the right match, you have already started networking and building an external transition team (maybe even more fruitful and productive than an internal one).
Be prepared after careful scrutiny, research, and networking and come to search firm consultants and to on-site interviews with specific questions geared to each group. Put aside any pride for being considered for the leadership position and, instead, embrace reflection and healthy doubt. Be sure to engage and question the faculty. Because of real or perceived academic freedom, faculty members are often the most honest and forthright in a search process and are willing to share institutional perspectives and history that can be most elucidating! Professional search firms should articulate both the opportunities and the challenges of a position profile. As a candidate, it is more exciting to consider the vastness of leadership opportunities than to deeply probe the obvious and possibly obscure challenges. You should also ask yourself whether you possess the appropriate qualifications, experience, personal qualities, and passions to address these challenges.
Delve into Data
Remember that institutional websites, where most of us seek information about organizations, and glossy brochures provided to candidates during the interview process are often marketing tools to attract prospective students – not geared for institutional or current leadership discernment, and not at the detail needed to understand the standing, trajectory, and financial sustainability of an organization. Do the same type of research you would do as a parent of a student who is considering the return on investment for a four-year college degree. For a college/university senior leadership position, request enrollment data including number of applications, admissions, and yield, as well as tuition discount and graduation rates for the past 10 years. Delve into alumni and friend giving. What is the history and trajectory of fund raising?
If these data are not provided after a request, this should be a red flag. In addition, request individual time with the chief financial officer (CFO) to understand the budgeting process, how budget decisions are made, the specific budget and program/discretionary funds allocated to your area. Ask specific questions about future resources for program building and innovative initiatives. If you are a candidate for the CFO, spend time with the chief academic officer (CAO) and ask the same questions. The partnership between the CAO and CFO is pivotal to predict short- and long-term productivity and accomplishment.
Everyone's journey to a new academic leadership position is unique. For the journey to be a success, the fit between the candidate and the institution has to work in both directions. The discernment process to your next leadership position should start and end with a meticulous and inquisitive focus that utilizes all of your resources: a deep dive into acquiring and understanding data, learning from internal and external colleagues, and trusting your own impressions.