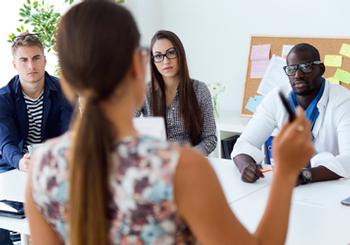 If you are an active faculty member, chances are you will find yourself running a working group or committee meeting. Fear not; Those who have gone before you have left a blueprint of best practices to help you succeed. Here are four strategies for effective committee management.
Understand Roles
Organization is key to the effectiveness of any committee. In particular, the role of chair or co-chair is the linchpin of any working group
In their article, "Meeting the Challenges of Professional Committee Meetings," Robert Schroeder and Donald G. Frank of Portland State University talk about two specific roles in the work of committees – the chair's role and the member's role. "The people filling each of these two roles need to attain a working knowledge of the expectations and associated responsibilities necessary to contribute effectively to the collective efforts of the committee."
In his article, "Meetings: The Bane of the Workplace," Robert F. Moran, Jr. discusses the difficulty of focusing participants to that each person can contribute to the meeting's success. "The most effective means to productive attendee behavior is a set of meeting rules, rules governing conduct as well as meeting management. , that are created and agreed to by participants."
It is important for each institution to provide academic chairs with guidance and goals. In fact, many colleges and universities publish faculty chair handbooks. Cerro Coso Community College in Ridgecrest, California, for example, spells out what is expected of faculty chairs, including regular meetings with department members to formulate department goals and assess outcomes.
Plan and Manage Your Strategies
Planning and management strategies are often dictated by the needs of each unique institution and department. Certain tasks, such as reviewing academic standards and oversight of departmental teaching and research functions, are typically required by academic committees.
Of course, committees don't operate in a vacuum. The process also hinges on how the personalities and strengths of committee members blend together.
A fundamental starting point for any working group is an agenda designed to facilitate dialogue and, ultimately, action. Planning and time management are also a critical part of the chair's role.
It also can be useful for the chair to kick-start meetings with ideas, outlines, and recommendations for action. According to Moran, "Meetings require much more time and effort on preparation and management than usually given to them."
Engage with committee members
Engagement is the linchpin of a successful committee. By ensuring engagement, the chair will also be paving the road to participation.
In their article, Schroeder and Frank remind leaders that "the chair must follow up on delegated tasks, and to ensure that committee members contribute to important discussions. And it is helpful to remember that today's member is tomorrow's chair, and vice versa."
While it seems self-evident, the Golden Rule should apply when it comes to committee meetings. Listening, being respectful of, and understanding one another is the core requirement of a good meeting
Meeting and committee management are fundamental roles for the committee chair. Whoever is leading the group must find a balance between guiding the group and relinquishing some degree of control to encourage open discourse.
Solve Problems
One of the biggest challenges of any group meeting is staying on topic. According to Moran, "Those willing to understand meeting dynamics, to prepare well for each meeting, and to commit to good meeting management will have more effective and efficient meetings."
It's important that the chair, especially a new chair or co-chair, be prepared to address potential problems such as disagreements on difficult issues, digressions, interruptions, or dominance of the discussion by a particular member.
A combination of organization, preparation, and diplomacy are the tools needed for success as a committee chair. Committee work is really about creating and nurturing relationships.