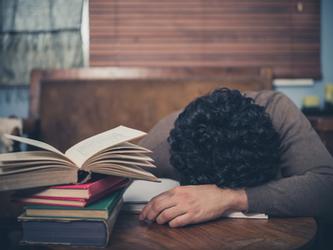 Has going into work every day become more of a chore than a joy? Does every curveball you face in the workplace seem to turn into a major crisis? Do you feel like you have little or nothing left to offer your department at your college or university?
These are all signs you could be suffering from job burnout, experts say.
While the bad news is that job burnout can take a physical and mental toll on just about anyone, the good news is that it can be prevented and reversed with effort on the part of the faculty or staff member, said Mary McKinney of Successful academica Chapel Hill, NC-based consultant who has advised faculty on work-life balance issues for 20 years.
"The main cause of burnout is having too many things to do in the time that is allotted to do them," McKinney says. Prioritizing activities that won't help achieve an end goal, such as tenure, is often a cause of burnout.
Faculty also set themselves up for failure by not properly managing the expectations of students. Some faculty members make the mistake of responding to e-mails from students right away, which creates the expectation that they will always respond immediately, regardless of the question and time of day. It is better to create a policy at the beginning of the semester that, for instance, states you will respond to student e-mails within 24 hours.
"The key is to make conscious choices about how you want to manage your time," says McKinney.
Kathryn Temple, an associate professor of English at Georgetown University, says she has developed strategies over the years for being a successful and efficient teacher. Once she realized that grading papers seemed to be taking up an inordinate amount of time, she devised a rubric for her classes that allowed her to better focus on learning outcomes, which made grading papers less time-consuming.
According to Temple, beyond time management, being successful in academia also requires a close examination of what drives you and what you want to get out of your job. While it may be easy for some faculty to get overwhelmed by a culture of too many meetings, cynicism, or institutional issues, remembering what drove you to the profession in the first place can be helpful and motivational.
After facing some significant personal circumstances that required her to spend more time with family, Temple decided to slow down her research trajectory and serve as a department chair, a move that allowed her to feel engaged with her job in a new way.
Those who consistently feel disengaged at work may want to re-examine what keeps them motivated and the type of work they want to be doing."We have choices," says Temple, who worked as a lawyer before deciding that higher education was a better career fit. "Life is short, you better take a look at what you're doing and make sure it's what you want to do."
For those who fear they may be going down the path toward burnout, there are steps that can be taken to reverse course, says Paula Davis-Laack, a job coach and author of Addicted to Busy: Your Blueprint for Burnout Prevention.
According to Davis-Laack, the first step is to examine where your energy is going. Examine what activities and relationships build your energy at work and at home, and what activities and relationships do the opposite. Then start increasing your diet of positive emotions.
"You can increase your diet of positive emotions by finding the good stuff," says Davis-Laack. "Keep track of one or two good things that happened to you each day with a reflection about why that good thing is important. Studies show that people who do this simple activity regularly have less depression, higher life satisfaction, better relationships, and sleep better ."