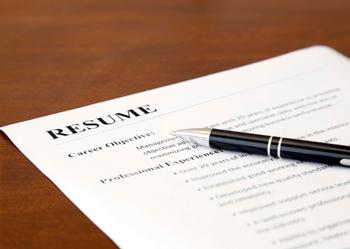 The action words you choose when writing your resume can make a difference in landing an interview or landing in the rejection pile.
According to a Harris Poll on behalf of CareerBuilder, 68 percent of hiring managers across all industries spend less than two minutes viewing each resume. Seventeen percent spend less than 30 seconds. You must catch a hiring manager's attention during that fleeting moment of inspection.
"Subjective terms and clichés are seen as negative because they don't convey real information," Rosemary Haefner, vice president of human resources at CareerBuilder, says in the article.
Here are five types of words or phrases to avoid on resumes and suggested terms to use instead.
Pass on the Passion Words.
Everyone applying for jobs at a college or university is passionate about higher education. Words like highly motivated and driven don't differentiate you and only express desire, which the very act of applying for a job should imply.
Suggestions: Describe how your passion is manifested through objective outcomes. " Influenced administrators with a plan that increased the university's retention rate by 4% (to 85%) in the first year it was implemented." If you don't have numbers to use but still want to convey your passion and tireless efforts, go with more cause-and-effect, logical outcomes." Shaped the student experience by …" or " Developed a strategy to reduce alcohol-related incidents with a series of late-night activities such as …"
Creative is NOT Creative.
Every year LinkedIn releases its most overused buzzwords and every year creative is near the top of the list. Everyone seems to use this word, even applicants for more technical jobs where creativity is less desired. Stop using creative as an adjective and instead describe why your creative lesson plans are so innovativewhich is another meaningless adjective, but is at least a fresher sounding one.
Suggestions: If you must, use the verb form: created. Forty-three percent of hiring managers in the CareerBuilder survey reacted favorably to this verb. Then, describe exactly what you've created. Better yet, describe what you achieved – 52 percent of hiring managers liked this verb more than any other word.
Don't Hype Yourself with Hyphens.
Are you a results-oriented Professor? Maybe you believe in a value-added approach to student affairs. These meaningless words are filibustering your own candidacy. Even though you believe you are a the go-getter who's the go-to personconcentrate on the hiring manager reading your resume and keep answering, "Why?"
Suggestions: Keep your words concise. Avoid excessive adverbs or adjectives. Describe the how you resolved an institution's problem or mentored students instead of exaggerating it with too many words.
No One Responds to Responsible.
A job description is a list of responsibilities. A resume is not. Limit your resume to one bullet point that begins with " Responsible for…" This also implies that you only fulfilled the minimal requirements of your job description.
Suggestions: Liven up your resume with strong verbs that show you exceed minimal requirements: launched, improved, managedand collaborated.
Don't Pretend with Pretentious Words.
Avoid writing as if you swallowed a thesaurus or aced Corporate Speaking 101. Pretentious words like leveraged and utilized may sound more impressive than simply using used, but hiring managers can see right through them. You may think you are thinking outside the box but words like proactively, dynamicand synergy are clichés that you should avoid.
Suggestions: Be you! There are plenty of strong action words used in everyday conversations that are simple, yet effective. If you don't know exactly what a word means, don't use it. If you wouldn't say the word, don't write it. One of George Orwell's Five Rules for Effective Writing is "Never use a long word where a short one will do."
Remember, hiring managers aren't spending much time reading your resume. Utilize, or use, their time wisely.