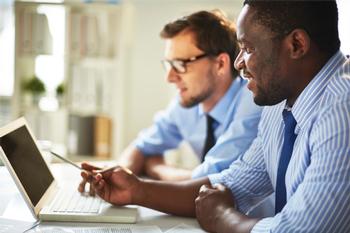 There was a time that the information technology department of most colleges and universities was stuck in the basement – literally and figuratively. That is no longer the case. The importance of IT in terms of an institution's ability to grow, meet its mission, and satisfy students, faculty, and other stakeholders can't be overstated – nor can the importance of great CIOs and other IT leaders. At many schools, the CIO position has become a highly visible, cabinet-level role with varied strategic, as well as operational, responsibilities.
One thing is for sure: IT will not return to the institutional basement. The challenges and complexities of IT within academia will only continue to expand. Educause's "Top 10 Issues in IT"for 2015 provides a good overview of the situation.
Higher ed IT leaders (and those who hire them) need to be aware of the following leadership and recruiting trends:
IT leaders must prioritize ubiquity and reliability. IT devices and networks are everywhere, in everyone's hands, on campuses today. Students, faculty, administrators, and all other stakeholders depend upon accessible, reliable, safe, dynamic IT services. IT ubiquity and infrastructure can be a major competitive advantage for one school over another, and therefore institutions will expect their IT leaders to be experts and visionaries in this area.
The bridging of central and academic IT functions is changing IT roles. Slowly but surely, institutions are realizing the value of integrating enterprise-wide systems with academic (and research) data and systems. They're doing this for strategic necessity in regards to cost management, market responsiveness (for enrollment, admissions, etc.), campus safety, and many other factors. This is having major implications on the type of IT leadership needed on campus – heads of IT need to understand both institutional and academic IT realms and be champions of the efficient sharing of data and information.
CIOs will thrive in the job market. Not surprisingly, good CIOs are in demand and they know it. Most academic CIOs have the expectation now that they'll be given a great deal of strategic influence in addition to their technical oversight. Leading candidates want to report to the highest level, be it the president or chancellor, and to be part of the cabinet. With a job market this competitive CIOs have more leverage than in the past and can command greater responsibilities and salaries.
CISOs are in demand, too. Information security is a critical issue in all industries. Higher education is particularly vulnerable to data hacking and other criminal activities due to its traditional spirit of collaboration and information sharing. Thus, the need for Chief Information Security Officers and other security experts has escalated. Campuses that haven't had dedicated information security leadership positions in the past are creating these roles, contributing to a shortage in qualified candidates. Making matters worse is a chronic lack of funding for IT security, low salaries for CISOs compared with other industries, and a hesitation on the part of schools to recruit security experts from outside academia.
Leadership positions in analytics are cropping up. With the profusion of data regarding campus and student activity, experts in optimizing systems to analyze and leverage data are needed. A typical state college system, for example, might have more than a dozen campuses and medical centers. Imagine the data produced and the advantages of capturing it all and ensuring that it's put to good use. A subset is "academic analytics"-data that helps leaders explore how to recruit students, retain them, and make sure they're successful after they leave.
Students, faculty, and staff are the consumers. This is a mindset shift for IT leaders. Colleges and universities are increasingly viewing their constituents as consumers to listen to, learn from, and cater to. IT leaders can't afford to maintain a distance from the people they are serving, and this trend is causing schools to recruit individuals who are personable, visible, influential, and savvy about the shifting education marketplace.
Leading institutions will focus on recruiting, developing, and retaining IT leadership. Despite a greater demand for IT executives, there has not been enough dedication given to developing the next generation of IT leadership in education. One CIO recently noted that he was looking to hire a deputy CIO for the first time, and this is the kind of thing that needs to happen if institutions are to maintain strong and continuous IT leadership. "Succession planning" is a phrase that is rarely uttered in academic circles, but it is something for IT departments to consider.
These are just some of the trends shaping IT leadership and recruiting. The information and data needs of today's colleges and universities are immense – this is good news for IT professionals looking to advance in their careers, but presents a challenge for institutions that have not prioritized IT and its leadership in the past.
About the Author
Nick Giannas is a consultant in the IT practice of the executive search firm Witt/Kieffer.