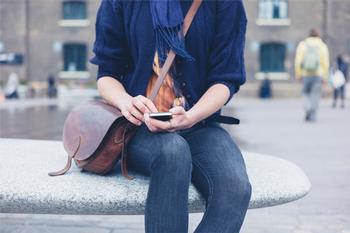 There is a battle underway for dominance in the world of Learning Management Systems (LMS). In an effort to stay ahead of the pack, LMS providers have unveiled updated versions and product offerings in the name of revolutionizing the delivery of higher education in a digital environment. Observers breathlessly monitor evolving product offerings from market leaders such as Blackboard and Canvas as a way of projecting the changing direction of higher education. But in a very real sense, the winners in today's LMS battles are losing the war.
For the approximately 3 million Americans enrolled in fully online degree programs and the millions more taking individual courses online, learning is mediated by Blackboard, Canvas, Moodle, Desire2Learn, or another LMS. However, most students' preferred tool for digital interaction is not the desktop or laptop, but rather their smartphone. Smartphones have become the global gateway to all things digital. 2.6 billion people currently have smartphones; in five years, the number is expected to be 6.1 billion, or 70 percent of the world's population. Other digital devices are destined to become increasingly peripheral as society becomes more and more accustomed to the smaller screen. In a recent article, Benedict Evans of Silicon Valley venture firm Andreessen Horowitz recently declared the mobile Internet as "the real internet" while the desktop/laptop is "the limited, cut-down version."
Instructional design for the desktop or laptop was successful in delivering a faithful replication of traditional campus-based higher education: the weekly lecture, discussion, and assignment. While this "holy trinity" of online education provided the new medium with a patina of legitimacy (ie, it's the same as on-ground education), it doesn't work on the small smartphone screen. To wit:
Navigating content: Navigating curriculum is challenging on a smartphone. Not only because of the small screen, which requires buttons/areas large enough to be selected by thumbs, but also because we use smartphones differently. Smartphone users are much more likely than PC users to abandon content that takes more than five seconds to load.
Discussion: Discussion boards can work well on smartphones. Ubiquity counts for a lot in discussions, and smartphones facilitate this better than any other platform. As Benedict Evans says, "…mobile today does not mean 'when you're mobile'. It means ubiquity – universal access to the internet for anyone at any time." Synchronous video discussions also work, but not for an entire cohort or section (more likely 1:1, as with FaceTime), and also for sessions much shorter than class-length. However, smartphone posts are likely to be much shorter and informal than faculty are used to (eg, the 140 characters common to a Twitter post).
Testing. Formative assessments work very well on smartphones both in a classroom environment and out of class. But summative assessments do not.
The common thread is clear: anything that can be done in short bursts can work well on a smartphone. But none of the LMS leaders appear to be rethinking online education for smartphones. Although most online degree programs are now delivered via learning management systems that claim to be "mobile platforms," ​​believing that the solution to the smartphone challenge is simply allowing mobile access to the same online course is tantamount to believing that an institution's online strategy is effectively addressed by putting lectures on YouTube or iTunes.
Providers of online education and LMS enablers will rise or fall based on their ability to reengineer learning for short bursts. This almost certainly means that online courses shift from content input on a common LMS platform to mobile applications or "apps."
Apps offer the solution to the smartphone problem by doing what learning management systems have not. These highly designed "walled garden" digital experiences are specifically engineered for mobile delivery. Apps offer a wide array of opportunities because they are purpose-built. In this environment, we can imagine one app for Economics 101 and another for Psychology 110. Apps are also ideal for simulations and gamified learning and can tailor the user experience further by incorporating real-world inputs (eg, location of the student) into the material
Smartphone users' sessions are currently three times longer when they're using apps than when they're browsing websites. Apps are also visited much more frequently than websites; total time spent on apps is currently growing at an annual rate of over 20 percent, and according to comScore, apps now account for more than 50 percent of total time spent with digital media. The heaviest app users are those in the 18-24 age group, the traditional university demographic; for these users, mobile internet usage has overtaken PCs.
In a world of apps, there is no LMS. Each app is designed from first principles to maximize student outcomes and purpose-built. Unless LMS leaders change direction quickly, ed tech observers seeking to project the changing direction of higher education can stop wasting time on LMS providers and begin monitoring emerging higher education app developers.