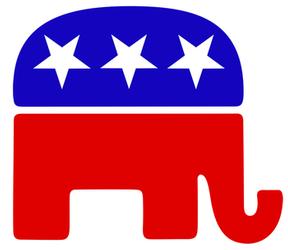 Editor's Note: Where do the top presidential candidates stand on issues relating to higher education? We asked a reporter to reach out to the top candidates from each party and review their websites and public statements in order to summarize their views. This article covers the Republican candidates. Summaries of the Democratic Candidates can be found here. All information was fact checked at the time of publication.
The six leading contenders in the Republican field are based on an Aug. 14 Fox News Poll [link removed: no longer active] of likely Republican primary voters. Their views are presented in alphabetical order. None of the six candidates responded to requests for more information and none of the candidates' websites indicated whether or not they support the GOP's. platform on education reform.
More information about the positions of all the presidential primary candidates is available on Ballotpedia.
Jeb Bush
A Study released earlier this year by Florida Democrats claimed that higher education tuition in Florida increased by 48.2 percent while Bush was governor. Moreover, a recent blog post on the John William Pope Center for Higher Education Policy website noted that then Gov. Bush issued an executive order eliminating race-based admissions in Florida. During his tenure in Florida, the state also implemented a program guaranteeing college admission to the top 20 percent of high school graduates.
According to an article in Bloomberg News, Bush has blamed the high cost of college, in part, on students taking too long to graduate, claiming that today's college students are on the "French work week."
Bush's campaign website can be accessed here.
Ben Carson
The Carson campaign site includes a link to a Washington Times Op-Ed in which Carson says: "There is a strong correlation between educational attainment and lifestyle."
Carson is opposed to providing free community college tuition. "There has been much talk recently about providing free community college education," he wrote in the Times op-ed. "First of all, it is only free if no one has to pay for it. It is not free if we rob Peter to pay Paul. Secondly, Pell grants already exist to pay for community college expenses for needy students. For those who are not needy, there is an old-fashioned remedy that is very effective — called work."
Ted Cruz
The campaign website for Cruz does not address higher education issues.
But, in a recent interview with BuzzFeed News, Cruz does shed some light on his views. According to BuzzFeed, Cruz opposes affirmative action when it comes to college admission. Moreover, he believes academic merit should be the determining factor in admissions. He noted that Ivy League schools once used "negative quotas" to limit the number of Jewish students admitted. "We see it now with colleges in California… negative quotas against Asian students because academically they're excelling," he said.
When BuzzFeed asked Cruz if affirmative action helped him to attend Princeton and Harvard Law School, he said it was "difficult to say." What the Texas senator did say, however, is: "I can tell you one of the downsides of affirmative action, being a Hispanic man, is over and over again you have people, often supercilious liberals, who would suggest you're only here because of affirmative action."
Mike Huckabee
While the former governor of Arkansas' campaign website points out that rising costs are a problem, he offers no solution: "The rising cost of college also threatens middle class families, students and the American dream," he says. "For too many, college is where students discover mountains of debt — but not a lifelong career. We must tackle the establishment and reform our colleges and universities so they make sense for the jobs of tomorrow."
According to the Pope Center, funding for higher education standards increased in nine out of the 10 years that Huckabee was governor. His administration also supported the use of federal funds by community colleges for career education and workforce training programs.
Donald Trump
Trump's position on higher education issues is not addressed on him campaign website.
But Trump does favor making it easier for international students to attend US colleges and universities. "When foreigners attend our great colleges and want to stay in the US, they should not be thrown out of our country," Trump wrote in a Twitter post.
According to the Chronicle of Higher Education, a for-profit "university" started by Trump in 2005 hit a few bumps in the road. In particular, New York state education authorities demanded in 2010 that Trump University change its name since it was not granting degrees and was not accredited. It is now called the Trump Entrepreneur Initiative.
Scott Walker
Scott Walker's campaign website does not address higher education.
But as governor of Wisconsin, Walker signed a budget for 2015-2017 that cut funding to the University of Wisconsin system by $250 million, and eliminated a state law mandating tenure for professors. Wisconsin had been the only state in the nation in which tenure was protected by state law.
According to the Wall Street Journal, Walker had proposed a two-year tuition freeze and a $300 million cut to the University of Wisconsin System's budget. Under the plan, he also proposed a shift in control of the university system from the state to a new independent authority. Walker's initiative to establish a new public authority failed. But his education reform initiatives have ignited a maelstrom of controversy.
"Maybe it's time for faculty and staff to start thinking about teaching more classes and doing more work," Walker told the Journal. "This authority frees up the UW administration to make those sorts of requests, which I think we need not only here, but across the country."